India gang rape: Vigil for victim held in Birmingham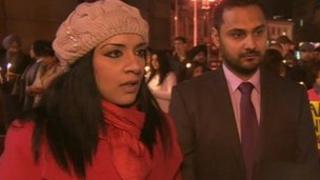 About 250 people have attended a candlelit vigil in Birmingham for a woman who died after being gang raped in India.
The 23-year-old died of her injuries two weeks after the 16 December attack on a bus in Delhi.
Those gathered heard speeches calling for justice for the woman and other rape victims as well as for action against such crimes.
Indian authorities have charged five men with kidnap, gang rape and murder.
The attack on the medical student has provoked outrage in India.
The vigil in Birmingham was organised by Reena Combo, editor of entertainment magazine Ikonz World, who lives in Wolverhampton.
Ms Combo said she was urged to organise an event after calling for justice for the victim in a tweet which was retweeted by hundreds of people, including Bollywood stars.
"I want to show solidarity and togetherness," she said. "And what happened to her is not about being Indian, it's not about being a woman - it's about humanity."
Sangat TV presenter Upinder Randhawa, who was among speakers at the event, described the attack "horrifying".
"For years this issue has been brushed under the carpet and this is time to raise a voice," he said.