Greater Birmingham pilot planned for economic growth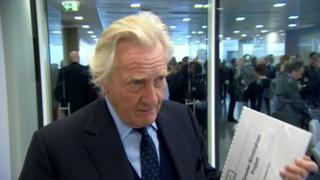 A project that aims to stimulate economic growth in England is set to be piloted in the West Midlands.
The £49bn national scheme is based on a Lord Heseltine report that recommends power be devolved from central government to the English regions.
One of the report's key aims is to help local leaders and businesses by moving billions to a regeneration fund.
The Greater Birmingham Project will conduct a three-month review with Lord Heseltine ahead of any pilot.
The former Conservative deputy prime minister made 89 recommendations to help industry in his October report, called No Stone Unturned.
At the time, the former head of the Department of Trade and Industry, said Local Enterprise Partnerships (LEP) did not have "the authority or resource to transform their locality in the way our economy needs".
Lord Heseltine told the BBC: "In my report I found too many people look to London and think something should happen there.
"The big shift I've been trying to advocate is Britain's provinces should play a much bigger role in determining their own destiny.
"It will not change things overnight but in the longer term it puts the dynamic into the hands of local people."
He added the private sector was vital in helping to create jobs and wealth and LEPs were the right vehicle to do this.
Investment catalyst
Greater Birmingham and Solihull LEP (GBSLEP) and the Birmingham Chamber of Commerce Group will look to identify areas where local ventures are likeliest to create jobs and regenerate communities were they to be given the necessary power and access to money.
After the review is completed it is hoped a pilot scheme will be run with a view to rolling it out across the country to other LEPs.
Andy Street, managing director of John Lewis and chair of GBSLEP, said he was keen to seize the opportunity.
Mr Street said: "We must present a compelling case to government to show the economic dividend that Greater Birmingham could derive if the Heseltine recommendations were implemented.
"The LEP and Heseltine share the determination to accelerate the rate of growth in this region.
"The onus is now on us, over the next three months, to demonstrate further that we can maximise the potential of this important opportunity."
Leader of Birmingham City Council, Sir Albert Bore, Labour, said: "I am hugely encouraged by the launch of this project; the government is making available its own resources [which] represents clear recognition of the importance of Birmingham and the region.
"If cities are given the freedoms and powers to flourish, I am sure they will.
"In such challenging times we need the catalyst that will unlock the investment and enterprise we are crying out for to enable economic and social growth."