Black Country councils' call to run job centres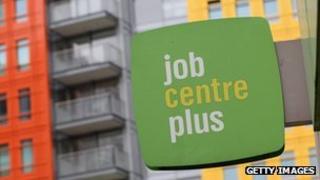 The leaders of the four Black Country councils have called on the government to let them take over control of their local job centres.
The Wolverhampton, Dudley, Sandwell and Walsall council leaders say the centres could be integrated into their services in return for extra government money.
The move falls under the City Deal offer, which gives councils the right to ask to take over national services.
Ministers are expected to look at the plans over the next few weeks.
The Black Country council leaders said taking over local job centres would enable them to build up certain skills programmes to deal with specific training needs in the area.
They said they would also be able to link education to employment more closely.
The council leaders have now written to ministers asking to be able to go ahead with the move.
'Specialised skills'
In the joint letter, they say there was evidence a "large-scale commissioning approach" to jobs and skills was not "sufficiently sensitive to local circumstance".
The letter goes on to say that a particular challenge in the Black Country was the high proportion of "very small businesses that require specialised skills".
The councils, which represent more than a million people in total, said although unemployment was falling nationally, the latest set of jobs figures showed it had been rising in three out of the four Black Country council areas.
In October, Cities Minister Greg Clark named the Black Country as one of 20 areas to be included in the City Deal in its second wave of the project.
In the first round of bids, Birmingham was among those to receive money and was given £25m for a new medical centre.