Kickboxer Lee Aldhouse charged with US marine murder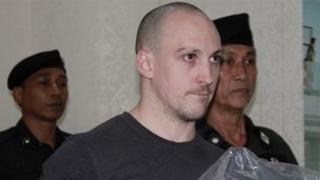 A kickboxer from Birmingham has been charged with the murder of a former US Marine by a court in Thailand.
Lee Aldhouse, 29, appeared at Phuket Criminal Court accused of stabbing 23-year-old Dashawn Longfellow, following a bar fight in Phuket in 2010.
He has been remanded in custody and will reappear at court on 18 February.
Prosecutor Chiengsan Panya said he could face the death penalty or a life sentence in prison if convicted.
However, the Home Office said they had been given assurances by the Thai authorities that Mr Aldhouse would not face execution.
He was extradited to Thailand on 2 December after having an appeal turned down by the High Court.
The kickboxer, who had been training and competing in Thailand, was arrested at Heathrow Airport on 18 August 2010.
Police said that Mr Longfellow was attacked in his apartment on 14 August 2010, following an earlier fight in a bar.