Birmingham Children's Hospital questions mental health services plan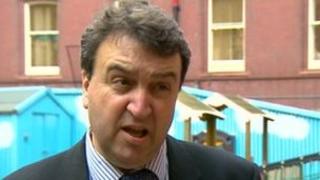 Birmingham Children's Hospital is calling for proposed cuts to young people's mental health services to be dropped.
The Child and Adolescent Mental Health Service at the site is at risk, after the city council announced plans to reduce its budget by more than £1.4m.
The hospital said if the cuts go ahead, there could be 1,200 fewer referrals for children, a cut of a third.
No decisions have been made, the council said.
The hospital's clinical director Matthew Jenkins said: "The mark of a civilised society is that it does protect and support the most vulnerable members of that society.
"I think that if we make these cuts in full, then we're going to be failing to do that and we're going to be failing the families and children who need those services so badly."
The council said the cuts to the children's mental health service were just one of the proposals in its budget consultation document.
A consultation period will run until 6 January.