Pedestrian killed in Wolverhampton crash named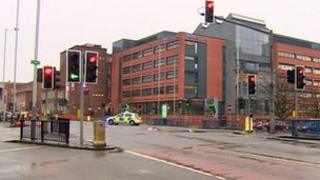 A pedestrian who died after he was struck by a car in Wolverhampton city centre has been named by police.
Nicholas Musgrove, from Walsall, was hit at the junction of Stafford Street and the St Peter and St Patrick parts of the ring road on Thursday.
The collision, involving a Mazda car, happened at about 06:15 GMT.
The 64-year-old was taken to New Cross Hospital where he died. Parts of the ring road and Stafford Street were closed for a few hours.
Police have appealed for witnesses.