Birmingham council funding cuts will hit 'disadvantaged'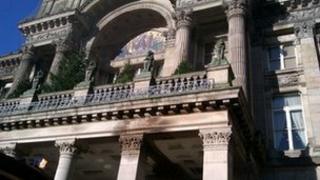 "Disadvantaged communities" in Birmingham will be hit by cuts to local authority funding, the city council leader has said.
Sir Albert Bore said: "We are going to have to make cuts that will affect the livelihood and the quality of life of residents of this city."
Communities Secretary Eric Pickles said worst-off councils would have central funding cut by an average of nearly 3%,
But he said the wealthiest councils faced average cuts of 8.7% for 2013-14.
He did not give a single national figure for funding cuts but said other measures meant overall that councils' "spending power" would be 1.7% lower.
"Spending power" takes into account both the core "formula grant" which councils get from central government and other income - council tax and other grants.
Reductions in services
A spokesperson for Birmingham City Council said the authority had yet to see the details of the central funding cut and so it "doesn't know exactly what they mean".
The council said it was already holding a public consultation over budget cuts, which ends on 6 January.
Details of any cuts will be made in the New Year, the spokesperson said.
In October, the council said it was looking at a total of £600m of savings by 2017.
The deputy leader of Sandwell Council, Labour councillor Steve Ealing, said in "cash terms" the council would lose £2m year on year.
"To be honest the preparations we've made for Sandwell Council will take us through but it does mean reductions in services because it will mean less money," he said.