Thomas Kirwan: Government to review knife crime sentencing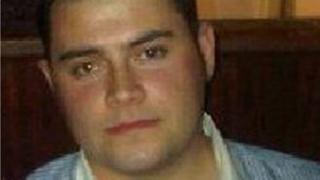 The government has said it will review sentences for knife crime after a man was stabbed to death outside a Wolverhampton nightclub.
The death of Tom Kirwan, 23, was discussed in Parliament on Tuesday.
Mr Kirwan's family have started a petition calling for similar punishments for people convicted of having a knife as those who carry guns.
Although no-one has been charged with his death, his family claim stronger sentences would stop similar incidents.
His girlfriend Jade Elwell, 21, said: "People don't think of the consequences or the heartache they can cause by carrying a knife, but they would think twice if punishments were stronger.
"At the moment they think nothing of it because the sentence that they get doesn't always reflect the crime."
Mr Kirwan, who worked in a factory in Shropshire, was stabbed near the Uberra Club on 8 July.
Five people, four men and a woman, arrested in connection with his death were bailed by police in September.
'Endemic problem'
In Parliament on Tuesday, justice minister Jeremy Wright paid tribute to Mr Kirwan's family and said the government would look at sentencing options for judges.
He said: "This is an endemic problem and one that we need to tackle, particularly among young people who persist in the wrong belief that they are safer carrying a knife than without one."
Ms Elwell said about 3,000 people had signed her petition calling for stronger sentences for knife crime.
"Tom's death has affected so many people and we need that number of signatures to keep going up for us to be able to take the petition to the government," she said.
A new offence for aggravated possession of a knife was introduced by ministers earlier this month.
Judges must now impose a custodial sentence for those who wield knives in public to threaten and create a risk of serious physical harm.
In the year up to June 2012 there were 29,613 offences involving knives in England and Wales, which was a reduction of 9% on the previous year.
During the same time, 200 people were murdered in knife incidents.