West Midlands forensic teams to attend fewer crime scenes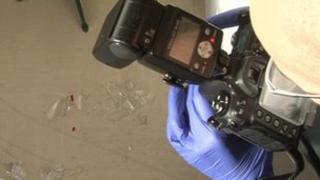 Forensic police officers in the West Midlands are expected to attend fewer crime scenes in a bid to cut costs.
West Midlands Police force's forensics team, which employs about 200 staff, has seen its budget cut by 15%.
The force said fewer cases would be routinely tested for DNA and fingerprints.
Acting head Richard Small said it was a matter of prioritising crime scenes that would guarantee evidence and reduce "wasteful" attendances.
"If there is any opportunity to recover forensic evidence we will deploy our FSIs," he said.
While the investigators will be available around the clock, the change in policy means their specialist skills will not be used to analyse some crime scenes and there are fears minor crimes could lose out.
Over the past year household burglaries have fallen by about 12%, a drop of almost 2,000 cases.
Last month West Midlands police and crime commissioner Bob Jones warned that crime could rise as services and the overall number of officers are cut.
He called on the government for "fair" funding deal for the West Midlands.
The force, the largest outside of London, faces savings of £125m over the next four years.
West Midlands Police said its caseload had also increased after the government closed the Solihull-based Forensic Science Service in March, which had been losing £2m a month.
Private contractor LGC now carries out some of the laboratory work for the force, which Mr Small said was now starting to deliver better value for money.