Norovirus closes Birmingham City Hospital to visitors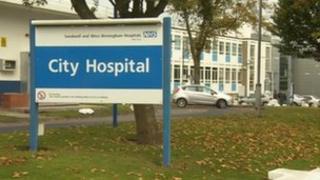 City Hospital in Birmingham is closed to visitors because of an outbreak of the winter vomiting bug.
Four wards at the hospital in Dudley Road have patients with norovirus or symptoms of the bug.
A hospital spokeswoman said it was hoped that the hospital would open again to visitors within a week. Outpatients can still attend.
The spokeswoman said it was a precautionary measure, to stop the spread of the virus ahead of Christmas.
Rachel Overfield, chief nurse at the hospital, said: "We've currently got three wards confirmed with norovirus and a fourth ward that we're suspicious has norovirus, and then a fifth ward down at Rowley as well.
"As soon as these things crop up on the wards we isolate patients, make sure staff aren't moving around, close the affected ward to visitors, increase cleaning and reinforce infection control practice.
"Norovirus is a problem that's out in the community and it comes into hospitals and then causes us problems in the hospital, so the more we can stop people coming and going… the more likely we are to get on top of this quickly."
Ms Overfield said that about 34 patients were currently affected and a "handful of staff."