Funding for Birmingham's Moseley Road Baths at risk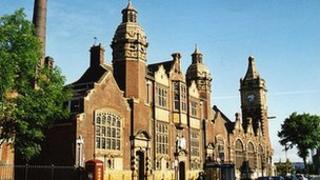 The refurbishment of Moseley Road Baths in Birmingham is in doubt after the city council said it did not have the funds.
The Labour authority said it could not match the £3m promise made by the Conservative-Liberal Democrat coalition.
It would have been used alongside a Heritage Lottery Fund bid.
Moseley Road Baths is the oldest of three Grade II* listed swimming baths operating in Britain.
The baths opened in 1907.
Economic reality
A Birmingham City Council spokesman said: "Promises to match fund this project were made by the previous administration, but nothing was allocated in the capital programme so it is not clear where the money was coming from.
"This administration inherited a substantial financial challenge and it is not possible at this stage to identify £3m capital funding to the Moseley Road Baths project.
"I fully acknowledge the support of the local community in putting together the Heritage Lottery bid for the Moseley Road Baths project and the work of district members and officers but the current economic reality means it is not possible to proceed with the project at this stage."
He added that the situation would be reviewed at a later date, which may enable another bid for Heritage Lottery Funding.
Councillor Lisa Trickett said local members would look to meet with Friends of Moseley Road Baths and other key stakeholders to consider the next step.