Birmingham Post and Mail building 'was exciting place to be'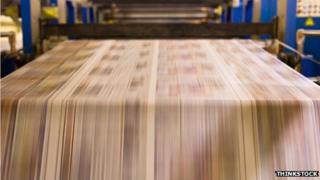 When it opened in 1966, it was seen as revolutionary - and more evidence that Birmingham was going places.
The Birmingham Post and Mail Building, in Colmore Circus Queensway, was another creation of John Madin, the best-known city architect of that generation.
The man behind the BBC's Pebble Mill studios, the Central Library and the original Bullring wanted to build something that was practical - but also something that would get people talking.
Designed to incorporate the newspapers' printing presses in an underground section, the building had an office block sitting on top to house all the rest of the staff.
Outside the building was a tall open arcade, which linked the advertisement hall to the editorial offices across the front courtyard.
"As a young reporter, it was a very exciting place to be," said Steve Dyson, who first started working for the two papers when he arrived on a work placement in 1989.
"Several times a day - after each print deadline - you would feel the whole building rumbling from the printing presses underneath. Soon after, vans would be queuing outside to collect the papers and the paper sellers would arrive.
"Because the building was in the heart of the city, it meant the papers could go on sale within minutes."
Mr Dyson, who later went on to become editor of the Birmingham Mail, said in those days the newsroom was still filled with cigarette smoke and, following the introduction of computers, the moaning of "some of the older reporters about how quiet it was without typewriters in there".
But nearly 50 years on from its opening, the building is now being demolished to make way for an underground car park and office blocks.
The papers' journalists, advertising and sales staff and other workers moved to new offices near Fort Dunlop in 2008 to join the presses which had already moved there.
That move was one of the last things Mr Dyson was responsible for during his four-year editorship of the Mail.
'Rackhams Slasher'
"It was the right decision at the time," he said.
"But being out of the city centre, you lose that closeness with your readers you once had when people could walk into the reception with their stories. But we kept an office in the Great Western Arcade - and of course, the best reporters will still go out to speak to people."
He added: "When I started, we were in a perfect location, opposite the police headquarters and all the courts were easily within walking distance.
"With the Rackhams Slasher case in the early-1990s - when a man started randomly attacking people in one of Birmingham's main shops - we were able to get a photographer and reporters to the scene within minutes."
After staff moved out, there were campaigns to get the building listed to save it from proposed demolition, but they failed and redevelopment continued.
Balfour Beatty, which is carrying out the work, said phase one, which will include a 750-space public car park plus restaurants, bars and convenience shops, should be finished by autumn 2014.
Details on the second stage - a building up to 20 storeys high made up of offices, flats and a hotels - still have to be decided.
'Felt like Chicago'
Pebble Mill and the old Bullring have since been demolished and a fight continues over whether to bulldoze Birmingham's Central Library.
"He only died earlier this year," said Alan Clawley, who wrote a book on Madin's work, which features the Post and Mail Building on its front cover.
"He must've been very upset to see one of his best works being demolished like this. None of them are falling down, it's just down to pure commercial interests.
"Companies downsize and can't justify staying in a large building and land values increase and they realise they could get a good price for where they are."
Mr Clawley said the Post and Mail Building had been "pioneering".
"It was quite unusual and very, very modern at the time, like the Bullring. It made everyone feel like they were in Chicago.
"We can't keep going on sweeping away our past because it's convenient, we need to keep some things.
"1960s architecture partially got a bad reputation because of the older buildings that were torn down for them. It would be ironic if we did the same with them."