Protest over job cuts at Shelforce in Birmingham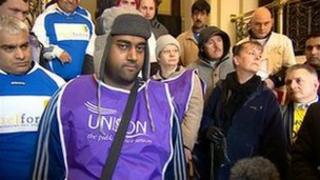 A protest has been held over job losses at a Birmingham City Council-run factory which employs people with learning disabilities.
More than 60 of 81 jobs are to go at Shelforce in Erdington which makes windows and doors, the council said.
Employee Fred Tozer, who was among 20 protesters outside the council offices, said he feared for his future.
The council said Shelforce had made losses of £4.5m over five years and must be restructured.
In October, the Labour-run authority said £600m of savings must be made by 2017, £200m more than originally thought.
'Pick up cost'
The council confirmed its plans for Shelforce at a meeting earlier, saying the factory was outdated and could operate with a minimum of 13 employees.
A review of the Erdington factory was announced last December.
Protesters, including Unison representatives, said the factory was a lifeline for many workers.
Some people were in tears as they expressed fears for their future and said they worried about having to live on benefits.
Mr Tozer said: "If I lose my job I'm going to lose my house and I don't know how I'm going to live."
He said his message to the council was "leave us alone so we can get on with our jobs".
A woman at the protest said Shelforce "had been the making of my son".
"I don't know what is going to happen, I'm frightened for his future," she said.
The council said more people could be employed at the factory in the future and it was trying to redeploy staff within the council or offer them training for other employment.
Labour councillor Tahir Ali said: "This was a difficult decision. The trading deficit for this year alone is £1.7m and the Birmingham residents cannot be expected to pick up that cost."