Malala Yousafzai visited by Pakistan president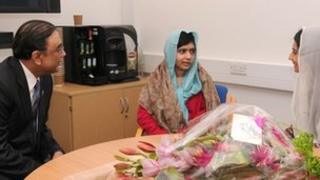 The President of Pakistan has visited a schoolgirl who is being treated in hospital in the UK after being shot in the head by a Taliban gunman.
President Asif Ali Zardari also met the family of Malala Yousafzai during a private visit to the Queen Elizabeth Hospital in Birmingham on Saturday.
Malala was shot as she travelled home from school with two classmates in north-west Pakistan in October.
The 15-year-old was targeted for "promoting secularism."
'Thanked staff'
Malala, known as a campaigner for girls' education, was shot in the Swat Valley on 9 October. Doctors said the bullet grazed the teenager's brain when it struck her just above her left eye.
She was flown to Birmingham to receive treatment unavailable in her own country.
The president described Malala as a "remarkable girl and a credit to Pakistan".
A statement released by the University Hospitals Birmingham NHS Foundation Trust said the President of Pakistan, Asif Ali Zardari, visited the hospital to receive an update on the recovery of Malala.
The hospital said President Zardari, accompanied by his daughter Asifa Bhutto, met clinicians who have been treating Malala since her admission to the hospital on 15 October.
"They were brought up to date on the 15-year-old's medical progress and her future treatment plan by (the trust's) medical director, Dr Dave Rosser," the statement added.
President Zardari and Asifa Bhutto then had a short five-minute private meeting with Malala, her father Ziauddin and her brothers Khushal Khan and Atal Khan.
During the visit, the hospital added, the president had thanked staff for their outstanding care.
Tens of thousands of people have since signed a petition calling for her to receive the Nobel Peace Prize.