New plan to save Dudley Hippodrome theatre submitted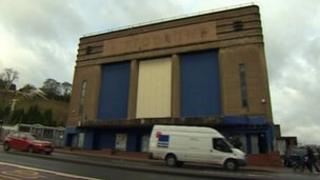 Campaigners who want to stop a West Midlands theatre being demolished and turned into a car park have submitted a new business plan to run it.
The Friends of Dudley Hippodrome group want the 1,700-seat venue to reopen as a community theatre.
Dudley Council plans to knock it down as part of its £10m Castle Hill regeneration project.
The authority said it was employing a specialist consultant to look at the business plan in detail.
A spokesman for the council said: "We've stressed all along we won't make a final decision on the future of the building until the plan has been considered properly."
'Bring theatre back'
The Friends of Dudley Hippodrome originally sent the council a business plan in September but the authority asked it for more detail.
Geoff Fitzpatrick, 70, from the group said the new plan included more about how it proposed to finance the running of the theatre.
"We're talking to local businesses about donating money and exploring funding from places like the Heritage Lottery and Arts Council," he said.
"Aside from the main auditorium, there are lots of other rooms in the building that could be used by community groups and local drama groups.
"It's important that we bring live theatre back to the Black Country and we want the council to see the benefits of that."
The Dudley Hippodrome was built 1938 and was used as a theatre until 1964, when it became a bingo hall.
The building has stood empty since it closed in 2009.