Niyousha Haki swine flu death: Natural causes verdict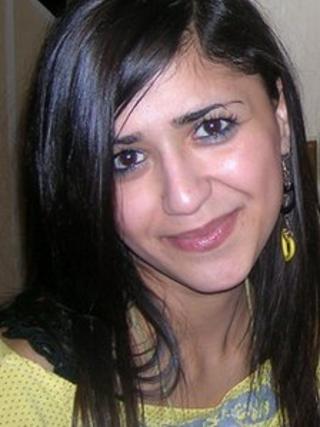 A woman with swine flu who paramedics would not take to hospital died from natural causes, a coroner has ruled.
Niyousha Haki, 28, and her family called an ambulance to Hall Green, Birmingham, three times on the night of 14 December 2010, an inquest was told.
Paramedics found she had a temperature of 39.6C and high heart rate but NHS policy meant only high-risk swine flu patients were taken to hospital.
Coroner Aidan Cotter said no gross failure or neglect was involved.
The coroner told the hearing at Sutton Coldfield Town Hall it was not a case of ambulance crews or other medical staff having failed in their duty of care.
"None of them were guilty of gross failure by failing to provide medical attention," he said.
Ms Haki was living in London where she and her flatmates had all been suffering from swine flu, the inquest heard.
She was taken ill when visiting her stepfather in Hall Green and West Midlands Ambulance Service staff were called.
'Avoidable death'
As well as having a high temperature and fast heart rate, she was suffering from anxiety, but was not considered to be high risk.
During the 2010 swine flu outbreak, NHS guidelines said only people considered high risk, such as those with underlying conditions, should be taken to hospital, to avoid the spread of the virus.
Mr Cotter told the hearing his "first impression" of the case was that it must have involved gross failure by at least one person.
However, he said after listening to 22 witnesses he concluded this was not the case.
Ms Haki went to the GP on 16 December and was taken to Solihull Hospital where she died following a cardiac arrest that evening.
Mr Cotter said the 28-year-old had also suffered liver problems from taking too much paracetamol to cope with her symptoms and he warned against the accidental over-use of the drug.
She had taken the drug as well as products containing paracetamol and exceeded the recommended dose, he said.
The coroner for Birmingham and Solihull added that in his view, Ms Haki would have died from liver failure if she had not been killed by swine flu and pneumonia.
The family said in a statement after the inquest they still believed Ms Haki's death had been avoidable.
West Midlands Ambulance Service said after the inquest the health service was "under enormous strain" during the swine flu outbreak and put agreed procedures in place to deal with such cases.
A spokesman said her death had led to an "extensive internal investigation" which highlighted a number of lessons to be learned and made key recommendations that had been implemented.
The service would not expand on what the recommendations entailed.