Birmingham City Council 'faces £40m more cuts'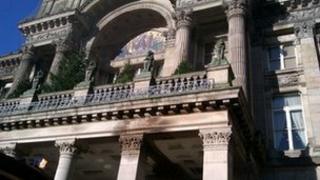 An extra £40m will have to be cut from Birmingham City Council's budget because of further government funding cuts and increased costs, leaders say.
The authority had initially said it was looking at cuts of £70m in 2013-14, but said that figure was now £110m.
Leader Sir Albert Bore said the situation was "much worse than we feared" after the Autumn Statement.
Local Government Minister Brandon Lewis said "while Birmingham pleads poverty" it was hoarding £112m in reserves.
Taxpayers are now being asked if they would pay more council tax to save services.
Labour took over the running of the council, the UK's largest local authority, in May from a Conservative/Liberal Democrat coalition.
In October, the council said it was looking at a total of £600m of savings by 2017.
Sir Albert warned at the time the authority could be facing an additional amount of tens of millions of pounds for next year, depending on reductions in direct government grants.
He said he thought the council could see its grant money fall by £310m by 2016-17.
The council has previously said it would have to look at decommissioning entire services to help meet the budget shortfall.
Sir Albert said work had already started on the budget for 2014-15 and there would be a consultation on decommissioning services next year.
He said: "It's going to get harder and harder and this is now a very different ball-game - no more salami-slicing - we are talking about removing services that the people of this city value.
"When we are taking out, over six years, around 50% of the budget the council has control over then this will be reflected in the number and size of service cuts that we have to make.
"It's not just that I regret having to bring a budget of this sort forward but I despair there is a lack of concern in government as to what the impact of their budget cuts are."
'More than double'
Ravi Subramanian, West Midlands regional secretary for the union Unison, said: "These are cuts that have been imposed on Birmingham by this Tory-led government as part of their failed austerity measures."
He said the average reduction in government funding for the country amounted to £74 per person, but Birmingham's reduction was "more than double" at £149.
Last month the council revealed it would have to pay at least £757m to settle equal pay claims brought by mainly women who missed out on bonuses.
However, it said that amount had been included in the budgets for the next few years.
Last week, Dudley Metropolitan Borough Council became the first in the West Midlands to say it was considering holding a referendum over higher council tax rates.
Ministers have said that any authorities wanting to increase council tax by more than 2% must ask their electorates if they are willing to pay it.
Birmingham City Council said it would now be looking at a similar consultation.
Mr Lewis said next year's funding for councils would be announced shortly.
He added: "Councils still account for a quarter of all public spending - £114bn of taxpayers money - so they must help act to reduce the inherited deficit.
"This year, while Birmingham pleads poverty, it is hoarding £112m in reserves, getting almost £400 more per household than the national average to protect frontline services, been given a £1.5bn city deal, £22m Growing Places Funding, an Enterprise Zone and £7.5m in New Homes Bonuses."
Mr Lewis said Chancellor George Osborne had exempted councils from the reductions government must make in 2013-14.
He added: "This will give councils like Birmingham time to find sensible savings by transforming frontline service delivery as well as reducing fraud, procuring better and sharing back offices."