Smethwick's Midland Metropolitan Hospital 'one step closer'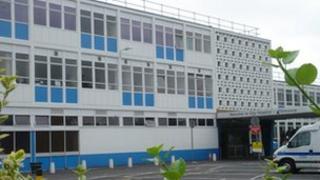 Plans for a hospital which have been on hold for two years are a "step closer" to being realised, it has been claimed.
West Birmingham Hospitals NHS Trust said the proposed Midland Metropolitan Hospital had received a "positive sign of support" in the Autumn Statement.
George Osborne said the government was working with the trust to assess the suitability of a new "PF2" scheme to deliver £325m for the project.
The £380m hospital would replace the Birmingham City and Sandwell hospitals.
The 670-bed hospital in Smethwick is set to include an accident and emergency department, maternity unit, specialist children's wards and critical care unit.
The trust said it needed to try to understand fully the impact of the PF2 model on its plans.
'Significant catalyst'
"This brings us one step closer to achieving our goal of providing the highest quality healthcare from 21st Century facilities for people living in Sandwell and western Birmingham," a statement said.
"We anticipate that it will take six months to refresh our plans in the light of the latest developments."
The trust said following approval and other procedures, the hospital would take up to five years to complete.
In Wednesday's statement, the chancellor said he wanted an overhaul of the PFI system to bring in a "faster and more transparent" one, called Private Finance 2 (PF2).
The changes include limiting the types of services included in contracts and more flexible terms, allowing the government to opt out of others later.
James Morris, Conservative MP for Halesowen and Rowley Regis, said the hospital would be a "very significant project for Sandwell".
As well as improving the NHS in Sandwell, the hospital would "also act as a significant catalyst for regeneration in the Black Country," he said.
The proposed site is made up mostly of derelict buildings on an industrial estate in Grove Lane and also some parkland.