Death rates 'higher than expected' at two West Midlands trusts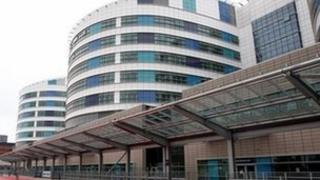 Mortality rates at two West Midlands health trusts were higher than expected, a report has found.
University Hospitals Birmingham NHS Foundation Trust and Walsall Healthcare NHS Trust were named in the Dr Foster guide as higher than expected on two out of four mortality measures.
The Walsall trust said its most recent data was "well below expected rates".
The Birmingham trust questioned the credibility of figures, but Dr Foster defended its measures.
It said the Walsall trust's number of deaths in hospital in 2011/12 was 17% higher than expected and the number of people dying in hospital and within 30 days of discharge was 13% higher than expected.
'Very pleased'
Trust chief executive Richard Kirby said: "A year ago, when the rates started to rise, we took it very seriously... the most recent information we've got, [show] our rates well below the expected rates."
The Dr Foster research company said the Birmingham trust's number of deaths in hospital in 2011/12 was 12% higher than expected.
It added that in terms of deaths in low-risk conditions, there were 1.57 deaths per 1,000 people at the Birmingham trust, compared to an average of 0.7 per 1,000 across England.
Trust medical director Dave Rosser said the measure of hospital deaths, Hospital Standardised Mortality Ratio (HSMR), was "widely considered to be unsuitable for use as a comparative indicator between hospitals".
'Deeply flawed'
He added Dr Foster "frequently changes" the methodology of the HSMR "which, in our opinion, further reduces its credibility as a comparator".
Dr Rosser said in the trust's opinion "the mortality indicator relating to Conditions of Low Clinical Risk is deeply flawed".
A Dr Foster spokesman said HSMR was used in Canada, Australia, the US and Denmark and was "widely recognised as an extremely powerful way of comparing hospitals".
He said the last change in methodology was in 2007, adding that changes were "entirely transparent and published in advance" and made in response to input from clinicians and hospitals.
The spokesman said the deaths in low-risk conditions measure was "a proven and validated methodology for identifying where there may be serious failings in care".