Kickboxer extradited to Thailand over US marine death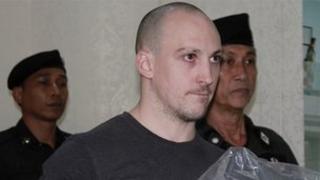 A Birmingham kickboxer has been extradited to Thailand where he is wanted by police in connection with a murder in the country two years ago.
Thai police named Lee Aldhouse, 29, as the main suspect in the murder of 23-year-old American Dashawn Longfellow.
The ex-US Marine died after being stabbed in Phuket on 14 August 2010.
Mr Aldhouse, was extradited to Thailand late on Friday night, the Metropolitan Police said, after his appeal was turned down by the High Court.
The kickboxer, who had been training and competing in Thailand, was arrested at London's Heathrow Airport on 18 August 2010.
He left the same airport on Friday night under an extradition warrant.
Mr Longfellow was attacked in his apartment, following an earlier bar brawl.