West Bromwich Building Society HQ to stay in the town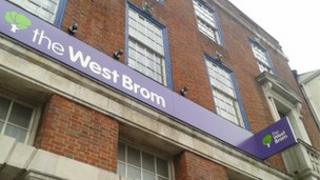 The West Bromwich Building Society is planning to keep its headquarters in the town after previously revealing proposals to move.
The building society said it recently became clear that "the initial terms were no longer feasible" for its intended move to Point North in Dudley.
It said that instead it would be relocating the High Street head office to Providence Place in West Bromwich.
About 500 staff would move under the plans, with no job cuts made, it added.
The society, which was set up in Paradise Street Schoolroom in 1849, said there would be room for expansion at the proposed new facility, while the current site had reached capacity.
It is hoping to move to the new head office in late 2014.
The society said it "re-engaged" with Sandwell Council and developed an alternative which meant building a new office at Providence Place was "the better solution" for its members and staff.
It has reached agreement in principle with the authority on terms over the acquisition of land and would work to finalise the remaining aspects of the deal as quickly as possible, the society added.
'Superb news'
Chief executive Jonathan Westhoff said it had become clear that the terms "had moved such that Point North was no longer the better option".
He said: "When we announced that Point North was the preferred option, back in September, we were conscious that the decision was finely balanced and, as such, there was no room for the terms to vary."
Sandwell Council leader Darren Cooper described it as "superb news", adding: "I am delighted that the West Brom has decided to stay in its spiritual home."
West Bromwich resident Heather Clarke, 34, welcomed the news.
She said: "It's great for the area if they are going to stay here.
"It's called the West Bromwich Building Society, so why move it to Dudley? Obviously it belongs in West Bromwich."
June Nicholls, 68, said she thought it was good news for jobs.
She said: "You want to keep the town going and if you lose people out, it becomes a dead town."
However, Dudley resident Walter Oakes, 77, said: "I suppose it could've helped Dudley out a bit because Dudley's going downhill fast."