Sutton Coldfield mother in plea to drink drivers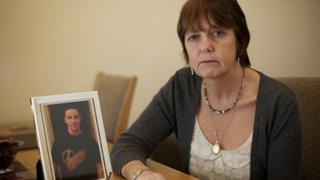 A mother left devastated by her 22-year-old son's road death has urged motorists to "think about the consequences" of drink-driving.
Jane Bennett is backing a campaign by West Midlands Police to tackle drink drivers over Christmas.
Her son Scott, of Sutton Coldfield, was a passenger in a car driven by a man who crashed when he was twice over the legal alcohol limit, police said.
Mrs Bennett said: "It can happen to anybody, any day."
Scott was killed in the crash in Sutton Coldfield in the early hours of 5 December, 2010. The 23-year-old driver was sentenced to three years in prison after admitting causing death by careless driving, a police spokeswoman said.
'Doorbell went'
Mrs Bennett described how she learnt of the fatal accident two years ago.
"I'd just put the Christmas tree up on the 5th December and I wasn't very well.
"At 4 o'clock in the morning I was fast asleep and the door bell went, I'll never forget that." she said.
"And the police were standing there and you just know something terrible has happened.
"I just wanted to go to the hospital, I guess to try and save him, because you just can't believe it."
Mrs Bennett said at the hospital she just sat there in "shock and disbelief".
"There was anger at first, then over time you begin to realise that you won't get peace by being angry. But the pain was most terrible thing," she said.
Mrs Bennett said at times she had felt like she "wanted to die".
West Midland Police's campaign is part of a national crackdown targeting drivers aged under 25 as well as those who get behind the wheel after drinking the night before.
Nationally, alcohol is a factor in 25% of road deaths, the force said.
In the West Midlands Police area, the number of casualties resulting from drink-driving rose for the first time in a decade last year.
'Hopes and dreams'
Insp Greg Jennings, of the operations traffic unit, reminded drivers they could be over the drink-drive limit "well into the following day" after drinking the night before.
"Drink and drug driving continues to be a significant problem causing harm within our communities, and I would ask the public to support our campaign by making the right choices themselves and by ensuring their family and friends do the same," he said.
Mrs Bennett said the tributes left to Scott after his death were "lovely", but reminded her of what she had lost.
"I know he was gentle, he was kind. His friends said he was the most polite and kind person they ever knew, a real genuine guy.
"So he was loved by a lot of people."
She warned motorists if they killed or seriously hurt someone the consequences could last a lifetime.
"You have taken away a life, or you have destroyed a life, a young life possibly. You have taken all the hopes and dreams away from the family for that young person," she said.
"I don't have those for Scott now. I can't have those for Scott."
The campaign runs from until 1 January, 2013.