Dudley Council may hold council tax rise referendum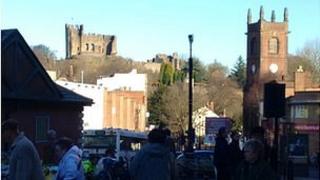 Dudley Council has said it may hold a referendum to ask residents if they are prepared to pay higher council tax.
Council leaders, who say they are facing £29m of cuts over the next three years, say they need to increase rates to keep running all the key services.
Ministers have said that any councils that want to increase council tax by more than 2% must ask their electorates if they are willing to pay it.
The council is surveying residents to get an idea of how they would vote.
Online poll
The Labour group, which took over the running of the council in May, said that when the 2013-14 budget was drawn up by the previous council administration it assumed that council tax could be put up by 3.5% to help meet the shortfall.
The council is now sending out questionnaires to residents and holding an online poll to get a steer of how people would vote in a referendum, which would cost more than £100,000 to hold.
Council leader David Sparks said he wanted to ask people if they would be prepared to pay a rate rise of 2%, 3.5% or 4.6%.
He said: "We know people don't want to pay the money but we also know they don't want us to close libraries, leisure centres and those sorts of things.
"We're asking, 'how much do you want to us to put council tax up by and what do you want to protect?'"
Local government minister Brandon Lewis said the council had not yet received its grant for next year from the government.
He said: "They should be waiting for that and then looking at what their costs are."
Mr Lewis said the council was "wasting" taxpayers' money by effectively holding a mini-referendum over whether to hold a referendum.
'Already struggling'
Several Dudley residents said they thought the idea of paying more council tax would be unpopular.
Stan Rivers, 68, said: "It's a rubbish idea. You only have to look around to see how many empty shops there are - Dudley's not a wealthy place and now's not the time to ask people to pay more when they're already struggling.
"We've seen services cut, whatever. They've got to know what the answer will be, before they even hold a vote."
Julie Peters, 43, said: "I do have some sympathy with the council - they're damned if they do and they're damned if they don't.
"At least they want to give people a say on whether we'd want to pay more council tax, but it doesn't take a genius to work out what the answer's going to be like - it's like turkeys voting for Christmas. I can't help thinking it'll be a waste of time and money."
Bill Crowther, 66, said: "It's all about politics. We've got a Labour council and a Tory prime minister and we've ended up in the middle of their arguments.
"Whatever we choose, cuts are still going to happen."