Carson Yeung, Birmingham City owner, has trial postponed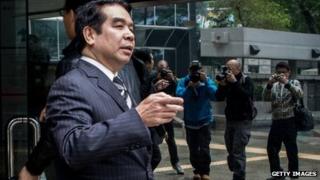 The trial of Birmingham City Football Club owner Carson Yeung, who faces money-laundering charges in Hong Kong, has been postponed until April.
The Hong Kong businessman denies five charges involving about £60m.
Mr Yeung's lawyers have been granted extra time to prepare his defence, in what Wanchai district court heard was a "complex" case.
The allegations predate Mr Yeung's involvement in Birmingham City, which he took over in 2009.
The court was told that the businessman had gone through five previous lawyers who had tried multiple times to unfreeze Mr Yeung's assets so he could pay for his defence, the news agency AP reported.
Sale talks
District judge Douglas Yau dismissed the prosecution's claim that the request for the postponement was a delaying tactic.
"Public money would be better spent waiting for the defendant to get his defence team ready and then proceeding to a swift and efficient trial," Mr Yau said.
The trial was adjourned until 29 April.
Mr Yeung worked in England as a teenager before becoming a hairstylist in Hong Kong. He made his fortune investing in nearby Macau in the 1990s.
Officers from the financial investigations unit of Hong Kong's narcotics bureau arrested Mr Yeung in August 2011.
Birmingham International Holdings (BIH), the company which owns Birmingham City FC, has said it is in "advanced talks" over the sale of the Championship club.
Trading in BIH has been suspended since the arrest of Mr Yeung, its largest shareholder.