West Midlands PCC warns 'unfair funding' may boost crime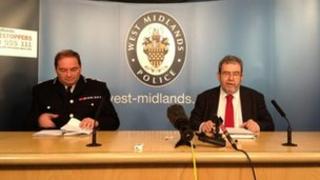 Crime in the West Midlands could rise unless the force gets a "fair" funding deal, the new Police and Crime Commissioner (PCC) has warned.
Labour candidate Bob Jones took control of the force last week, after elections earlier in the month.
Replacing the police authority, Mr Jones will help manage the force's budget and set policing priorities.
He said the West Midlands force had lost out on more than £270m of central funding over the last seven years.
The Home Office said the "damping" process, which sets out a series of limits for funding the UK's 43 forces, was currently being reviewed, but it was designed to provide funding stability for all forces.
PCSO cuts
A spokesman said the results of a consultation were being considered and a response was expected mid December.
Mr Jones said West Midlands Police, the largest force outside London, was being unfairly penalised, while forces like Surrey, serving much smaller populations were benefiting from the arrangement.
He said up to 35 Police Community Support Officers' (PCSO) jobs could also go, with new budget changes due to take effect.
Mr Jones said: "We have been deprived for many years of getting our full formula entitlement, which the government's own formula says we need.
"We're asking them to give us a fair deal to ensure we have the resources to meet the needs of our community."
The force, which manages a £546m annual budget, faces savings of £125m over the next four years.
"We're committed to continuing to drive crime down, but obviously the arrangements are made more difficult if we don't have the resources to deliver that support," Mr Jones added.
Chief Constable Chris Sims said the current recruitment freeze meant the force was getting older and would damage policing across the West Midlands over the next five to 15 years.
The chancellor's Autumn Statement and an announcement on details of police funding 2013-15 are expected in the next few weeks.