Women given lottery money to write soldiers' stories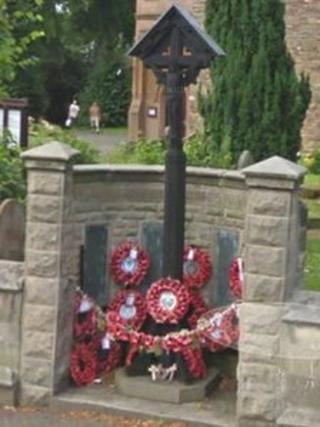 The stories of soldiers named on four war memorials in the West Midlands are to be documented by two women after they got heritage lottery funding.
Elisabeth Corfield and Joy Marshall were given £13,200 to research more than 100 men named on monuments in Kingswinford and Wall Heath.
They are to publish a book with profits going to the Royal British legion.
Ms Corfield said she wanted the soldiers to "not just be names carved on a stone".
She said that they hoped to speak to descendants of the soldiers to find out more about them.
"Obviously you can get a certain amount of information from official sources, the Commonwealth War Graves Commission and various internet sites, but you can't get a rounded picture of these men from official sources," she said.
'Very maternal'
"We want to hear from as many families as possible although we know some are scattered around the country and some around the world, including Canada and Australia."
There are more than 70 soldiers' names on two monuments at St Mary's Church in Kingswinford and 30 names on two other memorials in Wall Heath.
They are from both world wars.
Ms Corfield said she had come up with the idea to create a book after writing articles on some of the soldiers for a local parish magazine.
"You begin to get to know these men quite intimately in some cases and we get very maternal towards these men the more we find out," she said.
The women are holding an event at Kingswinford library later, which they said would be the first of many public events and exhibitions to raise awareness of their research.