West Midlands: Weather damage clear up begins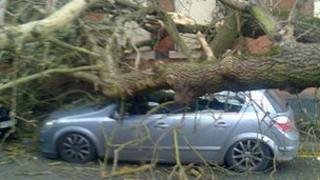 A clear-up has begun after roofs came off buildings and trees blew down during high winds and torrential rain in the West Midlands.
A roof was lifted off a mosque in Sparkhill, Birmingham, damaging cars and spreading debris across the road.
Two girls were hurt when hit by a falling tree in Wollaston, Stourbridge, and a motorist escaped injury when a tree fell on his car in Wolverhampton.
No-one has been seriously hurt in the incidents.
Jay Sutera, 33, from Wolverhampton, was driving in Springfield when he pulled over in Grimstone Street to take a phone call.
"I had just put the phone down and heard a massive crack," he said.
"It was like thunder but right by my ear."
He saw twigs start to land on his car bonnet and said he had instinctively crouched down into his car seat.
"There was the most almighty bang, and it all lasted for a couple of seconds. I thought I had had it."
Unable to get out of the front door, he managed to scramble out of a back door.
"By this time some of the staff from a nearby brewery had come over and they said they could not believe I had got out.
"I was very, very lucky indeed."
He escaped with a dead leg and an aching back and neck and said he had felt sick when he had looked at pictures of the damage.
"If a branch had come through the windscreen I could have been impaled or killed," he said.
In Sparkhill, Evelyn Road was cordoned off as engineers worked to make the Jamia Abdullah Bin Masoud mosque safe.
Fire service crews called to the scene said it was fortunate there were no injuries, as no-one was inside the mosque or on the street at the time.
Train services across Birmingham were disrupted but operator London Midland said things were back to normal on Friday.
Ambulance crews were called at 15:50 GMT on Thursday to help two teenage girls who had been hit by a falling tree in Wollaston High Street.
One girl suffered a head injury, while the other hurt her shoulder. Both were taken to hospital.
'Considerable disruption'
In Perry Barr, Birmingham, ambulance crews were sent at about 15:00 GMT to help an elderly man who was hit by branches from a falling tree in College Road while he was walking his dog.
The heavy rain left a section of the courtyard at Dudley Castle under water, even though staff said the castle was one of the highest points in the region.
A small lake was formed in the courtyard of the ancient monument, which is on top of a hill 730ft above sea level.
Chief executive officer Peter Suddock said: "The rains were particularly heavy late morning and flash flooding cut off a section of the courtyard where staff were working on Santa's Grotto, creating a small lake.
"Maintenance staff managed to clear the area and diverted the water into the moat drains by the sealion pools, which took a couple of hours, but we've had so much rain throughout recent months that it simply couldn't drain away naturally."
The Environment Agency said Thursday's rain had left rivers "reasonably high".
Dan Trewin said the rain had topped up river levels already high from Wednesday's rain.
"We have some respite today so levels will drop off," he said.
Flood warnings in the Birmingham area would be cleared, he said.
The Met Office has warned many areas are likely to experience a period of very wet and windy weather over the weekend.
Flooding is likely and winds could potentially cause damage to buildings and uproot some trees.
"Given the saturated ground there is potential for the rainfall to lead to considerable disruption in some areas," a spokesman said.