West Midlands: Heavy rain causes commuter delays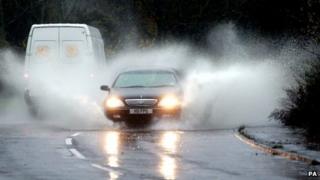 Heavy rain has caused transport problems across the West Midlands.
Rail operator London Midland reported flooding at Birmingham New Street station and warned of possible delays to services.
It said lines between Birmingham International and Coventry were blocked earlier due to floods.
Fire crews were called out to Corngreaves Road in Cradley Heath during the morning after two cars became trapped in water.
The road was shut at the Belle Vale junction and drivers were warned to approach with care.
Flood warnings were issued for the River Rea at Edgbaston and Stirchley, but have since been downgraded.
A spokesman for West Midlands Fire Service said crews had been called out to more traffic accidents than would usually be expected during the day.
"People need to take time with their journeys," he said.
At Cradley Heath, cars became trapped in 3ft (1m) of water.
"The people in the cars had managed to get out with the help of onlookers before we arrived," the spokesman said.
"Then we had to make sure the road was closed before more cars arrived."
Frank Shaw, chairman of Solihull and Leamington Rail Users Association, said it had been one of the worst downpours he had seen for a long time and he thought safety measures being taken on the railways were sensible.
He said: "The big problem is if you start getting running water on to the railway lines, coming off the fields, it washes the ballast away.
"And you don't want to run the trains when that happens."
The line between Birmingham International and Coventry has reopened but trains are running at reduced speed.
The line between Whitlocks End, near Shirley, and Stratford-upon-Avon, in Warwickshire, was also affected by flooding at Wilmcote and trains suspended.
Buses replaced trains between Longbridge and Droitwich Spa in Worcestershire.
The Environment Agency has produced a live flood warnings map to alert people to potential problems in their areas.
BBC Midlands Today weather presenter Shefali Oza said the rain was due to ease off for the rest of Wednesday, but warned more heavy rain was expected on Thursday with parts of the region likely to get 20-50mm of rain.
She said Herefordshire and Worcestershire were due to be the worst affected but heavy downpours were expected to spread into other parts of the West Midlands.