Halesowen fire home mum Catherine Keenan overwhelmed by help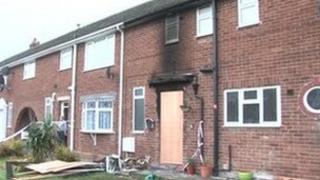 The mother of two children rescued from a suspected arson attack on the family home says she has been overwhelmed by support from the local community.
Catherine Keenan's five-year-old daughter Kate and son Alex, three, were rescued by their neighbours from the fire on Thursday.
Ms Keenan said everything in the family's council home in Halesowen, West Midlands, had been smoke damaged.
She said neighbours had donated toys, household appliances and clothes.
A 36-year-old man has been arrested on suspicion of arson with intent to endanger life after the fire at the Elizabeth Road house.
Ms Keenan, who also has a seven-year-old son who was staying with his grandparents on the night of the fire, said the damage to the house was still being assessed by the council.
She said a local pub, the Old Queen's Head, had put a bucket for donations on its bar and many people had been in touch to see how they could help the family.
'Just amazing'
"The community has been absolutely fantastic," said Ms Keenan, who was also in the house at the time of the fire but managed to escape.
"My mum and dad's home is just full of bags of clothes and toys and everything you can think of - it's just amazing. Other people have offered TVs and fridges for when we can get back into the house."
Dave and Josh Burford, the father and son who live next door to the house, broke an upstairs window to rescue the children.
Alex and Kate were treated in hospital for the effects of breathing in smoke but were not seriously hurt.
The family's border collie dog also escaped from the fire.
Ms Keenan said: "Thankfully the children are a bit too young to understand exactly what's gone on and they seem to be OK.
"They went back to school on Friday, and everyone there has also been absolutely fantastic."