Hayley Fullerton: 'Hospital failings' ahead of death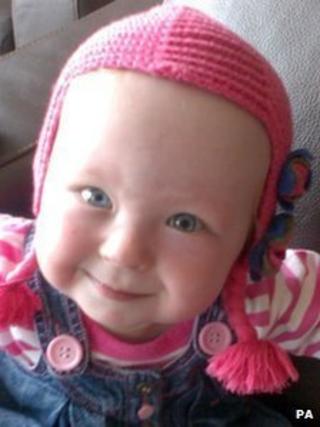 There were "serious failings" in the treatment of a one-year-old girl who died following open heart surgery, a coroner has ruled.
Hayley Fullerton died in November 2009 at Birmingham Children's Hospital days after being transferred from intensive care to a general ward.
Her mother Paula Stevenson, from County Down, told the inquest that staff failed to listen to her concerns.
The family is now pursuing compensation from the hospital.
Birmingham and Solihull coroner Aidan Cotter said the mistakes by medical staff did not amount to "systemic" failure and the hospital said it had taken "all steps possible" to learn from Hayley's death.
Recording a narrative verdict, Mr Cotter said a failure by medical staff to accurately maintain some of Hayley's medical charts was a serious failing - but not in itself a gross failing or enough to be considered neglect.
It was his view that "an inaccurate or incomplete chart is at best a waste of time - and at worst, positively dangerous".
'Brutal' experience
He added that it was "beyond doubt" that Hayley should have been moved back into intensive care, although it was impossible to say if that would have saved her life.
The inquest, which started in May, was adjourned until Wednesday for the verdict, which was given at Sutton Coldfield Town Hall.
Speaking after the verdict, Ms Stevenson said Hayley's death could have been prevented.
She said: "I still cannot understand how trained medics could ignore the fact that she was slowly deteriorating before their eyes.
"They had seven days to spot that something was seriously wrong but all those precious opportunities were missed."
In a statement, Birmingham Children's Hospital said it had "gone beyond the recommendations" of its own investigation and "improved the way we do things to ensure that no children or families experience anything like this again".
The hospital said since 2009 it had developed better training for junior doctors and nurses, improved how the medical and surgical teams work together and improved a night bleeper system for emergencies.
The hospital also offered "a heartfelt apology for the distress that has been caused".
Hayley was born on 6 October 2008 in County Down with a congenital heart abnormality that meant blood could not get from her heart to her lungs.
She underwent surgery at Belfast's Royal Victoria Hospital weeks after she was born and was then flown to Birmingham Children's Hospital for corrective heart surgery on 14 October 2009.
Ms Stevenson, who now lives on Australia's Gold Coast, told the inquest the operation had been a success and Hayley had been transferred to the hospital's paediatric intensive care unit, where she spent 17 days before being moved to a general ward.
However, she said her daughter had been failed "abominably" by medical staff and said the experience had been "brutal".
During the inquest, she said she had become so desperate that she offered a £100 gift voucher to a nurse to look after her daughter.
Days after being moved to the ward, an X-ray showed Hayley's right lung had collapsed.
She was given physiotherapy but on 11 November her other lung also collapsed and she went into cardiac arrest.
A team of doctors spent 20 minutes trying to resuscitate her, but was unable to save her.
It is understood Birmingham Children's Hospital has previously admitted liability to the family in a letter.
Medical staff admitted that if Hayley had been moved into intensive care sooner, as her family had been asking once they had concerns about her breathing, it may have saved her life.
Ms Stevenson, who was present for the verdict with Hayley's grandfather, said the family was also continuing to claim for compensation.
She said: "Hayley died like an abandoned animal - nobody listened to me while Hayley was dying and nobody listened to me when Hayley was dead."
The inquest heard that Hayley's grandmother, Sylvia Stevenson had since taken her own life and her daughter described her as the "second victim" in the case.
In an internal review after Hayley's death, the hospital found that a "hierarchy" among medics deterred junior staff from referring Hayley back to a paediatric intensive care unit in the days before she died.