Injured builder lifted 75ft to safety by crane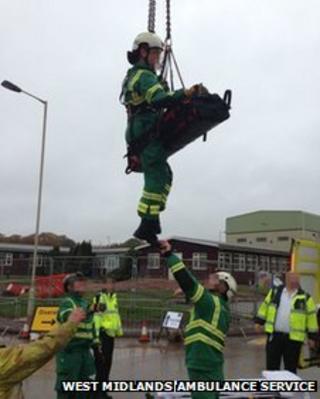 An injured worker at a Birmingham building site had to be lifted more than 75ft (23m) by a crane in order to get him to an ambulance.
The man, in his 50s, hurt his back and leg when a cherry picker overturned at Frankley Water Treatment Works on Monday, the ambulance service said.
He was put on a stretcher and, together with a paramedic, hoisted clear from the site.
The man was taken to hospital with another worker who was also injured.
The accident happened at about 08:25 GMT.
'Specialist stretcher'
A West Midlands Ambulance Service spokesman said: "The builders were just about to pour concrete at the site when the accident happened.
"One man, who was in his 40s was treated for a bump to his head, but a second, who was in his 50s, had leg and back pain.
"Due to the location the only way to get him out was to use a crane at the site.
"The man was immobilised using a specialist stretcher."
The spokesman added that the patient and paramedic were then "lifted over 75 feet into the air from the location and then transported to the waiting ambulance by the crane on site".
Both workers were taken to Queen Elizabeth Hospital in Birmingham.