Barriers go up on Nechells 'drag strip'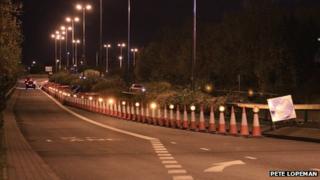 Barriers are being put up on a section of road in Birmingham in a bid to stop street racing.
The temporary barriers are going up on Heartlands Parkway, in Nechells, to reduce the road to a single carriageway and slow down traffic.
It is in response to CCTV footage of the A47 being used as a drag strip.
The barriers will go up on Sunday evenings and remain until the early hours of Monday.
Birmingham's Road Safety Partnership said the barriers would go up every Sunday "for the foreseeable future".
Insp Paul Dutton, of West Midlands Police, said illegal racers had used the stretch of road to race each other, reaching speeds of 120mph.
"It's very dangerous, has resulted in numerous accidents, some involving innocent motorists and has caused considerable noise disturbance and inconvenience for local residents and businesses," he said.
Since May, more than 200 motorists have been charged with driving offences in Heartlands Parkway.