Private firm Impower runs Sandwell children's services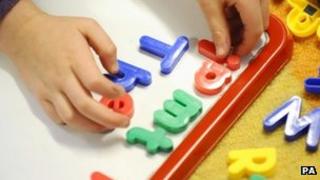 A West Midlands council has privatised the management of its children's services.
Sandwell Council has awarded a £1.15m two-and-half year contract to Impower, who will provide an interim director of children's services.
Ofsted rated Sandwell's children's services as adequate in February, but it was previously told to improve.
The Labour-run council was served with an improvement notice after services were rated as inadequate in 2009.
Simon White, who is currently the director of children's services at Suffolk County Council, will take over the post at Sandwell under the contract.
Mr White "has a long track record as a senior professional in turning round children's services and delivering sustained improvement," a council spokesman said.
Impower and its human resources partner Penna will work alongside service users, staff and senior managers. Front-line staff will remain council employees.
The authority said the money to pay the company comes largely from savings in top management posts at the council.
Impower director Max Wide said: "Sandwell has made great strides in improving children's services and our approach will be to build on what it has achieved."