Police officer presents four medals to war hero's son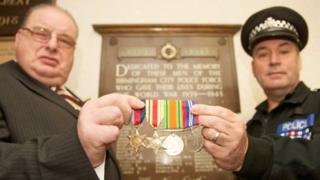 A World War II hero's son will be able to honour his late father in Birmingham's Remembrance Day parade after his stolen medals were replaced.
Ian Jones, 58, was "devastated" when thieves stole his father's four medals from his Harborne home in August.
Edward "Vic" Jones, who died in 2009, was awarded the British War and Defence Medals, the 1939-45 Star, and an African Star.
He had served in Tripoli, Libya, with the Royal Ordnance Corps.
But police sergeant Steve Rice, who is also a medal collector, has given Mr Jones four of the same medals from his own collection to keep.
Sgt Rice took an interest in the investigation to find the thieves, but the medals have not been traced.
'Emotional occasion'
But he wanted to help ensure Mr Jones could line up alongside veterans and their families wearing similar medals.
Sgt Rice said: "I had three of the four medals already in my collection and managed to source the other one through a dealer.
"I'm delighted to have been able to help Ian out following his loss - the medals are much better displayed proudly on Ian's chest during the Remembrance Parade rather than in a collection cabinet."
Mr Jones received the four replacement medals, mounted on a metal bar from Sgt Rice at West Midlands Police's headquarters at Lloyd House, Birmingham.
Mr Jones said: "It's a fantastic gesture, I desperately wanted to honour my father's memory on Remembrance Day by wearing the medals. Now thanks to Sgt Rice's generosity, I can wear the medals with pride.
"It'll be an emotional occasion for me."
Sgt Rice said many people mistakenly believed medals had a high financial value.
"However, they are of huge sentimental value to the owners and symbolise memories of lost loved ones," he said.