Breast cancer patients claim compensation from hospitals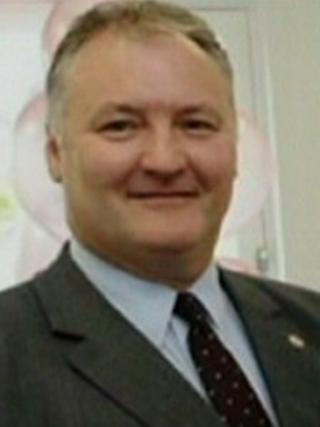 Women who claim they had botched and unnecessary breast cancer operations are taking legal action against four hospitals in the West Midlands.
The group of about 90 women are making compensation claims against the Heart of England NHS Trust and Spire Healthcare, their solicitor said.
Thompsons solicitors said the operations were carried out by surgeon Ian Paterson between 1994 and 2011
He has been suspended by the General Medical Council (GMC).
Mr Paterson is accused of performing "cleavage sparing" mastectomies at Solihull Hospital, Good Hope Hospital in Sutton Coldfield and two private hospitals owned by Spire Healthcare in Solihull and Little Aston, Staffordshire.
He was told to stop performing the surgery by the Heart of England NHS Trust in 2007.
It found that the procedure, which left a small amount of tissue for cosmetic reasons, breached national guidelines because of the risk of the cancer returning.
Mr Paterson is also being investigated by the GMC over claims he may have also unnecessarily removed lumps from patients' breasts.
Thompsons Solicitors, which is representing the women, said it had already settled one claim for compensation from the NHS Trust.
Ongoing investigation
Solicitor Kashmir Uppal said: "[These women] deserved the best medical care but have been let down by Mr Paterson.
"What we're trying to do is secure some compensation for them to move forward with their lives."
Gail Boichat, from Lichfield, had a mastectomy at Good Hope Hospital, in Sutton Coldfield, in 1995 after being told she had cancer, but in February she found out she had never had the disease.
She said: "It's knocked my confidence, you can't feel good about yourself because you've got that scar.
"You think 'I never needed to look like this' but I've got the support of my husband and family and that gets me through."
Aresh Anwar, Medical Director for Heart of England Foundation Trust, said Mr Paterson had not carried out any procedures at the hospital since May 2011.
"The Trust has invited all of Mr Paterson's patients who underwent a mastectomy to see an alternative surgeon for a review of their treatment and care," he said.
Spire Healthcare said it was continuing to investigate the practice of Mr Paterson in conjunction with the GMC and the NHS Trust.
A spokesman for the group said: "Supported by a team of independent consultant breast surgeons, we are reviewing the medical records of Ian Paterson's patients who underwent specific procedures for benign (non-cancerous) breast conditions."