Stourbridge litter campaigner's 'pedantic' rubbish fine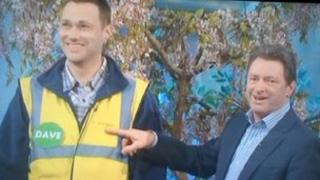 An anti-litter campaigner fined £75 for putting household waste into a public bin has accused a council of being "pedantic".
David Baker has been picking up litter in Stourbridge for six years since an accident left him with a disability.
A letter from Dudley Council said the volume of waste he was putting into bins could be "considered fly tipping".
The council said it will be reviewing the fine and will be "speaking to Mr Baker directly" to discuss it.
Mr Baker said: "It's a bit pedantic... If I was caught on CCTV going up the High Street in a van throwing out old baths that's fly tipping as far as I'm concerned."
Domestic waste
The 39-year-old began voluntarily collecting litter when he became involved in the Stourbridge In Bloom campaigns.
He has a masters degree in environmental sciences and worked as a geologist before an accident injured his spine.
His work clearing litter has been featured on the BBC's Gardener's World TV show.
He said the household waste he put in the bins included pizza boxes he's found on the streets and "three or four items of junk mail a month" that have been delivered to his home.
Councillor Tracy Wood said: "Our enforcement officers issued a fixed penalty fine to Mr Baker in Stourbridge, after they found his domestic waste and letters in the litter bin on a number of occasions."
She said public litter bins are for general use and not for domestic waste due to their size.