Bilston Community college loses foreign student licence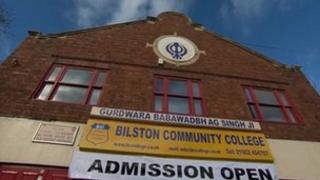 The UK Border Agency has revoked the licence of a Black Country college, meaning dozens of international students may no longer be eligible to study there.
Agency officials said the action had been taken as Bilston Community College was "not fulfilling [its] duties".
They said the college's "Tier 4 Visa" licence was revoked on 26 October, with immediate effect.
A college director said he had been told there would be an appeal.
In order to sponsor overseas students, any institution must qualify for the UK Border Agency's "Highly Trusted Status".
Kuldeep Singh, from the privately-run college which is currently closed for half term, said all students had been informed of the situation.
Closure fears
Phil Page, a Wolverhampton city councillor who also acts as a director for the 200-student college, said he had been told the college was appealing against the decision.
An application for a judicial review about the college's visa status will be held on 20 December, Mr Page said.
He said he had been told by college officials that, until then, all current students could remain at the college but it could not take on any new ones.
Mr Page, who said he had no involvement in the day-to-day running of the college, said after the court case it would be clear if the college would have to close.
To qualify for "highly-trusted" status, a college has to ensure students attend classes regularly, its teaching is of sufficient quality, and it adheres to a range of other factors.
Mr Page, who said he was first made aware of the situation when he was contacted by the BBC on Thursday, said he believed the issue concerned how many students had been refused for visas in the past.
'Money worries'
The college website claims international students account for more than 60% of its students.
Mr Page said making sure the college now protected its students was his "primary concern".
The councillor said he had been told students were given information about when to report back for classes.
One of the students, Ravinder Kumar, said there was concern over the impact on their studies.
Mr Kumar said: "If the college is not going to open how are they going to finish their studies?
"They're worrying about money, how much they spend.
"They spend about £6,000 per student to study."
In a statement, the UK Border Agency said: "Where we find evidence that sponsors are not fulfilling their duties we will suspend or remove their licence.
"We can confirm that Bilston Community College had its Tier 4 licence revoked on 26 October, with immediate effect."