Warning over Birmingham Queensway tunnels closure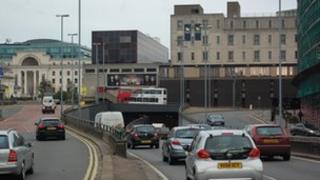 Business leaders in Birmingham have warned that closing two major city centre tunnels for six weeks next summer will add to congestion.
The city council has approved the closure of the A38 Queensway tunnels for repairs and new lighting.
Birmingham Chamber of Commerce estimated congestion in the city costs £2bn each year in fuel and wasted time.
The work is planned to coincide with school holidays, when the council has said traffic flows are 30% lighter.
'Improve awareness'
It said working on the tunnels during the day was cheaper and the closure scheme was part of a package of measures aimed at saving about £14m from the highways budget.
The tunnels, which are 40 years old, are the main through route for the A38.
Katie Teasdale, director of policy and strategic relationships at the chamber of commerce, said: "The closure of the Queensway tunnels will clearly have an impact on accessibility to the city and will add to Birmingham's congestion issues which currently amount to £2bn every year.
"It is vital that the Highways Agency and Birmingham City Council work hard to improve awareness and promote alternative routes into the city centre including public transport.
"Let us hope that the train cancellation problems end soon."
There have been ongoing problems on London Midland train services due to driver shortages.
London Midland has repeatedly apologised for the problem, which is expected to be resolved by mid-December.
'Crazy'
The council said the tunnels project avoids a prolonged period of closures, after contractor Amey originally said it planned to carry out the work at night and weekends over 25 weeks next year.
City business groups had been consulted and having six weeks of work was "the preferred option" from them, the authority said.
The council said alternative routes would be promoted during the refurbishment, which will begin in July, and signs would be put in place to divert traffic via St Chad's Circus, Great Charles Street, Paradise Circus and Suffolk Street.
Delivery driver Ian Lowes, whose job is based in Tamworth, Staffordshire, described the project as "crazy".
Mr Lowes, who uses the Queensway tunnel every day to reach a hotel, said: "The closure of the tunnel for six weeks will affect a lot of people."
Brian Lee, company secretary for the TOA taxi firm, said the tunnel "needs refurbishing" and he would be "happy to use an alternative route".
He said: "[It will] cost a bit more as it means we will have to take a longer route.
"[But] we know most of the short cuts in the area, so it shouldn't really be a major issue."