Darren Jones killing: Dudley man guilty of manslaughter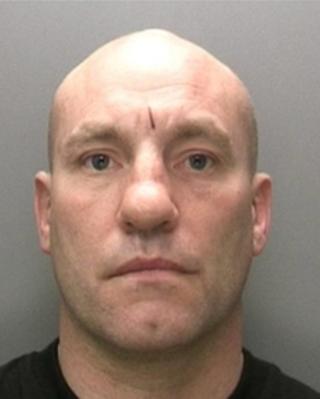 A man has been jailed for eight years after fatally injuring a father of eight during a fight at a social club.
Peter Nightingale, 43, was cleared of Darren Jones' murder, but convicted of manslaughter, at Wolverhampton Crown Court.
Mr Jones, 42, from Tipton, died in February from severe head injuries after an attack at Greets Green Social Club, Whitehall Road, Great Bridge.
Ex-boxer Nightingale, of South Road, Dudley, had denied the charges.
Sean Kyne, acting sector crown prosecutor from West Midlands Crown Prosecution Service said: "During the attack the defendant punched Mr Jones to the face causing him to fall to the floor.
'A tragic case'
"He continued the attack repeatedly punching the victim to the head while he lay defenceless on the floor. Mr Jones never regained consciousness following the attack.
"Peter Nightingale, a trained fighter, knew the damage that he could inflict with his fists and yet he nevertheless decided to use them in a savage assault on the victim.
"The CPS has worked closely with the West Midlands Police from the very early stages of this investigation to ensure that the case was prosecuted as effectively as possible.
"We would like to take the opportunity to thank those witnesses who were prepared to give evidence in the trial. Without them the defendant would not have been brought to justice for this offence.
"We would hope that the conviction brings some comfort to Mr Jones' family."
Det Sgt Rob Bastin from West Midlands Police said: "This was a tragic case where a fight inside a club has gone too far.
"Darren lost his life when he was attacked and wasn't able to defend himself after having a few drinks."