PCSOs Khalid Akhtar and Joy Shoker lose bullying case appeals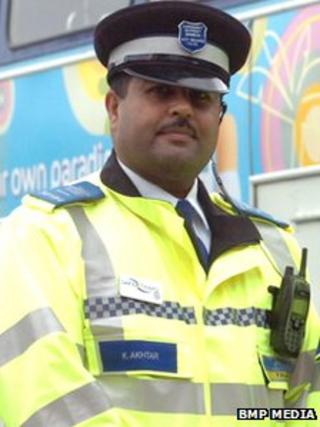 Two police community support officers who claimed they had unfairly lost their jobs for bullying a colleague have lost their cases at a tribunal.
Khalid Akhtar, 42, and Joy Shoker, 24, who worked for West Midlands Police, claimed they were unfairly dismissed and racially discriminated against.
Their cases were thrown out after it emerged they had lodged their appeals after the three month cut-off period.
Both had worked for the police force in Wolverhampton.
West Midlands Police said both PCSOs had harassed the colleague by text message after some indecent photos were taken from her phone and spread around.
The colleague had left her phone while she gave evidence in court.
A total of five PCSOs were disciplined in connection with the alleged incident in May 2011.
One was reinstated on appeal, and another resigned while suspended.
The force said Mr Akhtar and Ms Shoker had lost their jobs for bullying and harassing their colleague by text message, not for distributing the indecent material.