Birmingham A38 Queensway tunnels to close for six weeks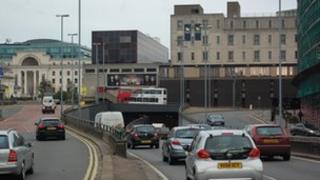 The Queensway tunnels in Birmingham city centre are to be closed for six weeks next year so refurbishment work can be carried out.
The city council has approved the closure so contractor Amey can make structural repairs and install new lighting from next July.
It is part of a package of measures aimed at saving about £14m from the highways budget, the authority said.
The tunnels, which are 40 years old, are the main through route for the A38.
'Optimum time'
Other cost-cutting measures include cancelling resurfacing work on some roads and changing street lighting times, the council said.
A downgrade of the planned refurbishment of the Lancaster Circus tunnel is also part of the plan.
Amey said it had originally planned to carry out the work on the tunnels at night and weekends over 25 weeks next year.
It said costs would be lowered by reducing the time that would be taken opening and closing the roads every night.
Construction manager Mark Winthorp said the work would be timed to coincide with the school summer holidays.
"Based on experience, traffic flows are 30% lighter during the summer holidays, so it's the optimum time to do it," he said.
'Will be repeated'
"Some activities couldn't be fully completed during a night-time closure and also trying to complete the works at night, it would involve weekend closures over a period of up to nine months.
"That would have more impact on the city and businesses and retail."
The council said signs would put in place to divert traffic via St Chad's Circus, Great Charles Street, Paradise Circus and Suffolk Street.
If successful, the closures will be repeated in the summer of 2014, the authority said.