Birmingham's bloggers need to 'fill in the gaps'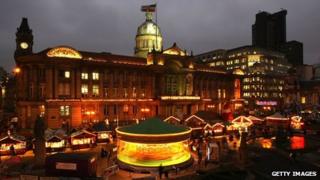 A Birmingham hyper local blogger has put his website on eBay after claiming it "fills in the gaps" missed by journalists.
Jon Bounds, 37, a social media consultant writer, said he started blogging 10 years ago on the controversially-named website in response to the city council's bid for Birmingham to become the European City of Culture.
He said: "The council were trying to hide things and make out Birmingham was all about cafe culture which it isn't.
"They weren't reflecting the Birmingham that people who live there are fond of and there was a complete disconnect between the media and the local people here. I set up the website to try to bridge that gap."
Over the last decade he has used Birmingham: It's Not Shit, with its catch line "mildly sarcastic since 2002", to extol the virtues of the city while denying it is rubbish.
Mr Bounds cites Pits 'n' Pots in Stoke-on-Trent and London's diamond geezer as influences and other "good examples" of citizen journalism blogs.
He said on average around 10,000 people have visited the site each month in recent years and added one of the "highlights" was a post featuring a film showing actor Telly Savalas, famous for his role as "Kojak", which got 10,000 hits in one day.
Paul Bradshaw, a senior lecturer at Birmingham City University's School of Media, described the blog as one of the first of its kind to establish itself in the UK.
He said: "People launch blogs in response to a frustration with the limitations of the local media, they're found where people feel their local area is not being covered.
"They also tend to be less about location and more about issues rather than trying to mimic traditional patch newspapers."
Mr Bradshaw, who founded the journalism website Help Me Investigate, said Birmingham is one of the most active social media cities in the country.
He said: "You find there are lots of postcode level blogs, arts blogs and issue-led sites but Jon's has a unique style."
As many as 100 hyper local websites have mushroomed in Birmingham in recent years, according to Mr Bradshaw.
At the same time regional newspapers have cut jobs - in 2011 Trinity Mirror, which owns the Birmingham Mail, Birmingham Post and Coventry Telegraph, announced plans to cut 66 jobs and close three of its free weekly papers.
David Higgerson from the group is positive about the use of blogs.
He said: "The work we've done with bloggers in Birmingham has been collaborative and genuinely partnership-based.
"After some initial nervousness about working with 'big media', we have developed very good relationships that produce benefits for both sides."
'One stop shop'
Mr Bounds, who has got a new job and moved to Oxford, listed his website on eBay last month for £500 after an initial listing of £1,000 received no bids.
He said he has tried to contact the private buyer but has not yet heard from him.
Last year Mark McCreddin set up a blog for people living in a newly built development called Lightmoor Village, in Telford, Shropshire.
He described Lightmoor Life as a "very concentrated, online one stop shop" but claims local newspapers pick up on issues covered on the blog.
He said: "As more people moved in it got harder to know your neighbours and you didn't recognise everyone and I thought it was a shame that was getting lost.
"The Telford Journal covered the story we had about a resident who had started a petition for a postbox in the village because Royal Mail had turned us down the first time."
Mr Bradshaw said although there is indeed strain on local newspapers, such blogs should be seen as a benefit rather than a threat.
He said: "If a newspaper sees these type of blogs as a threat they've already lost.
"It's not like they're competing for advertising and they are more often than not civically minded and focussed on journalism, not publishing."
He added hyper local blogs can help launch media careers and noted Mr Bounds was named by the Birmingham Post as one of the city's 50 most powerful figures in 2009.