Crete murder suspect Luke Walker vows to clear name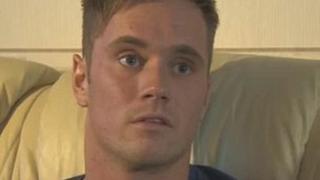 A man who is on bail while on trial for murdering his girlfriend on the Greek island of Crete has said he is determined to clear his name.
Luke Walker, 24, from Brierley Hill in the West Midlands, was arrested in May 2010 over the death of Chelsea Hyndman, 21, from Castleford in West Yorkshire.
Mr Walker, who is now back home, said Miss Hyndman was the "love of my life".
Miss Hyndman's mother Heather said she was shocked Mr Walker had been allowed to return home.
A date for Mr Walker's trial to continue is yet to be set. Officials have said it may not resume until September 2013.
Earlier this month, the court in Heraklion sat for less than an hour before the trial was adjourned because key prosecution witnesses had not been summoned.
'Love of my life'
Mr Walker, who first moved to the island in search of work, was then given bail to return to the UK.
Miss Hyndman had been working at the party resort of Malia when she died after suffering severe injuries to her abdomen.
Greek prosecutors claim she was beaten by Mr Walker but he has said she fell during a night out in the Malia.
Mr Walker said: "She was the love of my life. I wanted to spend the rest of my life with her.
"I wake up and I think about her - and I go to bed and think about her."
Mr Walker said it was "awful" when he heard from police they were arresting him on suspicion of her murder.
He spent five months in jail in the run-up to the start of his trial, which he said involved staying in an "overcrowded" cell with 17 to 20 people.
He said he was now focused on clearing his name and "holding my head high".
Mr Walker said he was "forever grateful" to his family and friends for their support so far.
"That's what got me through prison, knowing all these people believed in me and supported me," he added.
Mrs Hyndman said she was "angry and upset" at first when she was told Mr Walker had been bailed to the UK.
She said: "But then, talking to my lawyer, he explained that it was a good thing that it had been adjourned because there was lots of information that he didn't have. Given more time we can get that vital information and it will be better for Chelsea in the long run to have all the documents.
"When he was allowed home I was upset because he's allowed home to be with his family and my family can never be together again."