Team completes Birmingham to Worcester narrowboat pull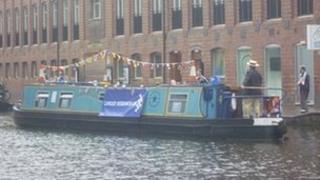 Six men have pulled a 12-tonne narrowboat from Birmingham to Worcester to raise money for a cancer charity.
Maths teacher Neil Evans and five friends took part in the 30-mile (48km) boat pull in aid of Cancer Research UK.
The team, all former rugby players, took five days to complete the mission, arriving "on target" at Diglis Basin at 15:00 BST.
Mr Evans, 43, said: "It was a tough challenge. Very physically hard but the team was superb."
He said the team had felt up to the challenge.
Mr Evans said about £4,500 had so far been raised and he was hoping a pub raffle would boost funds further.
He said he had wanted to raise money to fight cancer since his grandmother's death from the disease 15 years ago.
The men slept overnight on the narrowboat and stopped with their collection buckets along the route.