Birmingham CAB may close two branches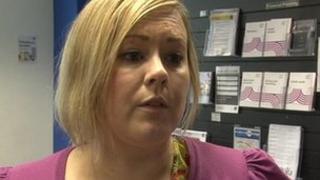 Birmingham's Citizens Advice Bureau (CAB) has said it could have to close two of its four branches in the city because of a funding crisis.
The bureau, which advised more than 50,000 people in the city through its walk-in services last year, has appealed for public donations.
The charity said it must find £120,000 by the end of the financial year.
The city's branches have lost thousands of pounds in funding from a range of public sources following cutbacks.
A concert was to be held in Birmingham city centre on Saturday evening to raise money for the service.
Citizens Advice closed one Birmingham branch last year and reduced the opening hours of the four others because of the cutbacks.
Emma Cook, Birmingham CAB's operations manager, said: "It's really desperate. I mean if we don't find that money then we will closing maybe one or two of our bureaux.
"Which means that the number of people who will get help and support will be reduced."
CAB says its funding problems are at a time when more people may be needing help and advice, with the Welfare Reform Bill, which introduces an annual cap on benefits, coming into force next year.