Walsall Manor Hospital pays compensation after boy's brain damage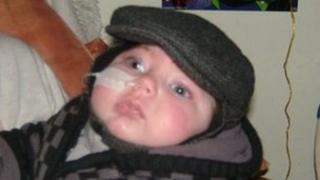 The parents of a West Midlands baby born with brain damage causing cerebral palsy have been given a five-figure sum in compensation, solicitors said.
Cayden Follows suffered injuries after delays in his birth at Walsall Manor Hospital in May 2009 and died just over a year later.
Walsall Healthcare NHS Trust said it "deeply regrets" delays and apologised for distress caused to the family.
His mother, Faye Lawrence, said it had hopefully "learnt lessons" from errors.
'Massive strain'
Ms Lawrence, 26, and partner Luke Follows, 27, from Willenhall, were left "devastated and heartbroken", the couple's solicitors said.
In a statement released by the family's lawyers, Ms Lawrence said Cayden's birth and the year that followed "placed a massive strain on all the family", but she was "relieved" the trust had apologised.
She said: "It was so hard knowing that something wasn't right and having to wait around during his birth.
"Then we were devastated when we found out about his injuries and even more heartbroken to lose him just one year later."
Ms Lawrence was induced at 22:00 BST on 9 May 2009, three and a half hours after she was first reviewed.
'Detailed investigation'
But the law firm added: "Despite further deterioration in the [unborn baby's] heart beat and signs of distress", no further review took place until 23:00 BST when it was decided Ms Lawrence needed an emergency caesarean.
The transfer to the operating theatre was delayed until 00:23 BST on 10 May 2009.
It added that a lack of oxygen to the brain had caused severe damage, leaving Cayden with cerebral palsy and development problems. He developed seizures and had to be fed by a tube, the law firm said.
In a statement, trust chief executive Richard Kirby said it would like to reiterate "its sincere apologies" for the distress caused to the family and "its deepest sympathy" for the loss of Cayden.
He said: "Unfortunately delays were experienced during Cayden's delivery and in performing a caesarean section. Sadly Cayden suffered from neurological damage and passed away.
"The trust deeply regrets the delays which the family experienced at the time of Cayden's delivery and a detailed investigation has been conducted into the events surrounding Cayden's birth to prevent another family suffering such an experience."