Russell Joslin death: BBC bosses 'could have done more'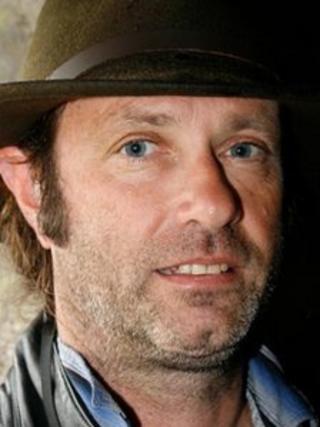 The father of a BBC journalist who apparently killed himself has called for an inquiry into how his complaints about alleged harassment were handled.
Russell Joslin, 50, a reporter for BBC Coventry and Warwickshire, died in hospital on Monday.
His father Peter said his son, who had mental health problems over the past six months, should have received more help from BBC managers.
The BBC said it would ensure the family's concerns were addressed.
The radio reporter was hit by a bus on Friday morning and was admitted to Warwick Hospital and then to nearby St Michael's psychiatric hospital.
He was later re-admitted to Warwick Hospital as an emergency patient. He died there on Monday afternoon.
Warwickshire coroner Sean McGovern said a post-mortem examination had taken place and preliminary tests found Mr Joslin died from asphyxiation.
Mr McGovern opened and adjourned an inquest into the 50-year-old's death and said a full inquest would be held in due course.
Peter Joslin, a former chief constable of Warwickshire Police, said he did "not blame the BBC but management did not save him".
He said the allegations surrounded complaints his son made about sexual harassment by a female former colleague.
'Plenty of opportunities'
Peter Joslin said there had been "plenty of opportunities" for managers at the BBC to intervene after his son complained, but "nothing had been done to help him".
He said the alleged sexual harassment took place five years ago and since then his son had asked to move to a different job, which he had been told he was unable to do.
Reading out a statement on behalf of the family, Russell Joslin's brother-in-law Dan Barnard said: "We do not think that the BBC is solely to blame for Russell's death.
"This is too simplistic and factors to explain motives for suicide are usually complex.
"It's true that we believe there are questions that need answering by the BBC to explain how it could be that Russell formally expressed his very significant concerns about several things going on at work and yet ultimately was not taken seriously."
He said this apparently also included recommendations by occupational health professionals not being heeded by managers.
"Tragically the stress caused through this, we believe, is a significant contributing factor in understanding what brought Russell to the brink of feeling no other option than to take his own life," he said.
'Highly competent'
The woman accused of harassing the reporter said there was never a complaint against her and she denied any wrongdoing.
She said she was asked by managers to try to help him.
Russell Joslin, who had lived in Kenilworth, had been a journalist for most of his working life, reporting mainly in the Midlands.
He had worked for the BBC in Coventry and Birmingham and had also worked as a freelance reporter for national newspapers including the Sun and Daily Mirror.
Mr Barnard said his brother-in-law had been a "highly competent and experienced journalist" and this had been substantiated by the many tributes the family had received from his colleagues.
BBC Coventry and Warwickshire's news editor Sue Curtis, who had known the reporter for nearly 20 years, said he had brought "considerable talents to the BBC".
She said he had "an amazing creative talent".
His colleagues are being offered counselling by the BBC.
The reporter's funeral is to be held on Wednesday.
A BBC spokesperson said: "Our thoughts and condolences are with Russell Joslin's family at this sad time.
"This is a difficult time for everyone who knew him. The BBC is committed to working constructively with the family to ensure that their concerns are vigorously addressed.
"It would not be appropriate to comment further until the facts are established."