Birmingham City Council announces cuts and job losses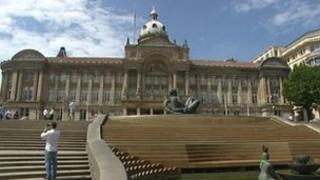 Bosses at Birmingham City Council say £600m of savings must be made by 2017, £200m more than originally thought.
Cuts of £62m to the Labour-run authority's 2012-13 budget were voted for in February with warnings that 1,100 jobs could go.
Council leader Sir Albert Bore said some services would have to be "decommissioned" completely.
The government said the council still got more than the English average to spend on each of its households.
Sir Albert warned the authority could face an additional £60m to £70m of cuts on top of the £120m for 2013-14, depending on reductions in direct government grants.
'Horrendous' situation
He has written to Eric Pickles, the minister in charge of local government, for clarification.
The council leader said the authority was looking to cut £600m in total over the six years up to March 2017.
He blamed successive cuts in government grants for the council's "horrendous" financial situation, which he said had not taken into account population changes, inflation and other costs.
The leader said the government had banned authorities from raising council tax by more than 1.6% without holding a referendum among voters about whether they would be prepared to pay more. He refused to rule that out as a possibility.
Sir Albert said: "This is the end of local government as we have known it.
"But this is not the end of local government completely.
"It needs to be inventive, it needs to find new ways to work with partners like public agencies, schools and the business community to find different ways to do this."
Sir Albert added: "This is as serious as I've known it in local government."
Labour took over the running of the council, the UK's largest local authority, in May from a Conservative/Liberal Democrat coalition.
The council said it would be holding several public meetings from next month over which services should go.
Sir Albert said that at its height, the council employed 19,000 full-time members of staff but that figure would fall to less than 15,000 over the "next few years".
He said it would be mid to late-November before the authority would have more details on how many and what sort of jobs would be affected, although he said some senior posts could be axed.
Sir Albert said there could be "no more 'salami-slicing' of services".
"With the extent of the cuts over the past few years and with more to come, we have to start decommissioning services," he said.
"I am not looking forward to this but it has to be done."
Ravi Subramanian, Unison's regional secretary for the West Midlands, said: "Our members are very, very worried.
"They are worried about their jobs, they are worried about the future of Birmingham and the services to the community.
"And at Unison itself, we are really worried about the massive impact this is going to have on the local economy."
Mr Subramanian said the union felt the city had seen bigger cuts than most parts of the country and it was asking businesses and residents to join a "Stand-up for Birmingham" campaign.
A Department for Communities and Local Government spokesman said the council "still has £2,576 to spend on every household - more than the average in England of £2,186" and the government would be introducing new incentives for all local authorities.
A statement said: "Birmingham is already getting government help to grow its local economy, through a city deal worth £1.5bn, the New Homes Bonus, an Enterprise Zone and £22m in Growing Places Funding.
"In addition, the government will support a third year's council tax freeze - potentially worth over £200 to Band D residents."
"Given councils account for a quarter of all public spending, it is vital they continue to play their part in tackling the inherited budget deficit by making sensible savings."