Crete murder trial: Luke Walker's father on 'bittersweet' bail ruling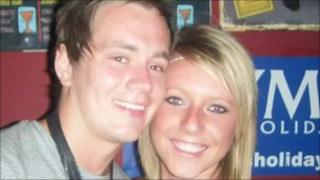 The decision to allow a West Midlands man on trial for murdering his girlfriend in Crete bail to return to the UK has been described as "bittersweet" by his father.
Luke Walker, 24, from Brierley Hill, was arrested in May 2010 over the death of Chelsea Hyndman, 21, from Castleford in West Yorkshire.
The court in Heraklion sat for less than an hour on Tuesday before adjourning because key prosecution witnesses had not been summoned.
A date for the trial is yet to be set and Mr Walker has been bailed to return to the UK. He was given bail after being held on remand for five months after his arrest but was not allowed to leave the island.
Mr Walker will return to Brierley Hill with his father Patrick, mother Lindy and brother Ryan who have all spent time in Crete since he was arrested.
Patrick Walker said: "We would have preferred the trial to have gone ahead so we can clear Luke's name - the bail decision's come out of the blue.
"We were set up ready for the trial but the Greek authorities weren't - it really is bittersweet."
'Months not weeks'
Miss Hyndman had been working at the party resort of Malia when she died after suffering severe injuries to her abdomen.
Greek prosecutors claim she was beaten by Mr Walker but he says she fell during a night out in the Malia.
Mr Walker, an electrician, said it had cost the family about £200,000 in accommodation, legal costs and loss of earnings from the business he runs with his son Ryan.
He said: "Friends and family at home have done lots of fundraising, we've remortgaged our house and had to stop working.
"At least going back to the UK allows us earn some money, I'm hoping the business will be able to pick up again."
Mr Walker said they would need to budget another £30,000 for the pending trial.
He said: "I'm hoping they'll set a time frame for it, so we obviously would only need to come over to Crete for the duration of the trial.
"We're going to try to concentrate on a more normal life in the UK but it's not going to be easy.
"Luke's happy to be going home, but it's still hanging over us: we'll all be waiting for that letter to come through the door and our solicitor said it would be months rather than weeks."