Malala Yousafzai will 'inspire a new generation'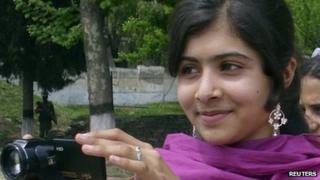 Pakistan schoolgirl Malala Yousafzai, who was shot by a Taliban gunman for campaigning for girls' education is an inspiration to other young Muslim girls, a UK human rights group has said.
Inspire, an organisation which seeks to address inequalities facing British Muslim women, has condemned the shooting of the 14-year-old.
"It is disheartening that in a country like Pakistan, which did have a female Muslim prime minister, there are people that feel threatened by the empowerment of women and young girls," said director Sara Khan.
"I hope Malala makes a full recovery and she continues to inspire a new generation to advocate for Muslim women's equality both here in Britain and Pakistan."
Malala, who had a bullet removed from her skull last week, is being treated at the Queen Elizabeth Hospital in Birmingham where she has been since Monday.
She was flown from Pakistan via the United Arab Emirates by air ambulance, almost a week after she and two other schoolgirls were attacked as they returned home from school in Mingora in the Swat Valley.
'Almost inevitable'
Qayyum Choudhury, chairman of the Council of British Pakistanis, based in Birmingham, said he was pleased the city had a role to play in her recovery.
He said: "There is a strong connection [between the two places] because of the large number of Pakistanis who live in the city, I am proud that Birmingham has stepped in to help this situation."
Malala became widely known as a campaigner for girls' education in Pakistan as a result of a diary she wrote for BBC Urdu about life under the Taliban, when they banned all girls from attending school.
Mr Choudhury said the assassination attempt by the Taliban had been "almost inevitable".
"Whoever it was advising her, putting her at the front of this campaign, should have thought that she would be in immense danger," he said.
"They should have thought about whether she could defend herself and how vulnerable she was, because if you make a statement of that sort against the Taliban, you will be targeted."
'Right not privilege'
The Taliban said they had attacked her for "promoting secularism".
The gunman, who boarded the van in which she was travelling, asked for her by name before shooting at her three times.
Urooj, 18, who is a student from the Sparkhill area of Birmingham, said that "an education for young Muslim women was a right not a privilege."
She said: "In the Islamic faith they do say that education for everyone is a really important part of our faith and this is what she wanted.
"Girls in Pakistan do have a lot of skills they want to project but because of certain people they just really can't.
"I do possibly feel that this will turn opinions against those who attacked her because the Taliban did admit they did this to her and there's an outrage in Pakistan at the moment about it."
Doctors at the Queen Elizabeth Hospital said they were hopeful Malala could recover from her injuries.
Speaking on Tuesday, Dr David Rosser said she was making good progress, but had a long way to go and was not "out of the woods yet".